Staff go on strike at CUB factory as layoffs halt beer production
"I won't be buying a VB panel this weekend, guaranteed."
Another wrote: "Give your workers a chance or we'll stop drinking your beer. See how much money it saves you."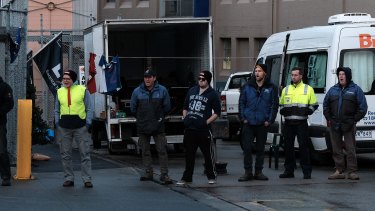 Former brewery machine specialist Chris Brown said he and his colleagues felt like they had been "thrown to the dogs" by CUB.
"There are guys with newborn babies, future partners, people who are now struggling to pay doctors' bills, and there are three apprentices who are almost done who haven't even been considered. ."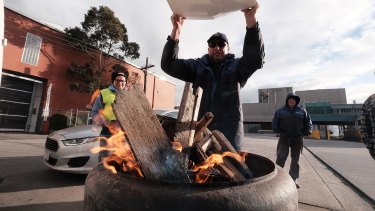 "We were thrown into the coldest and wettest Melbourne winter in five years…it was a real shock and we went through all the emotional stages."
A source inside the Abbotsford plant said ordinary production at the site had slowed by at least 35% since the layoffs.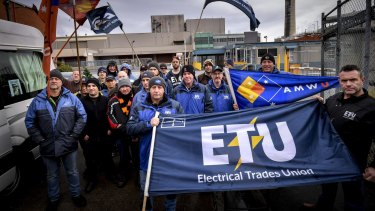 "As of the end of this month, it's the busiest time of the year. There are football finals, then Christmas, then summer," the source said.
"I think CUB is going to get a very expensive lesson in the value of its workforce."
Internal CUB documents show a significant decline in manufacturing. Machine line efficiency data shows a sharp deterioration in uptime since maintenance workers were laid off and replaced.
CUB would not comment on the impact of the layoffs on beer and cider production volumes so far, but said supplies have not been affected.
A CUB spokeswoman said the shopkeepers who lost their jobs received severance pay from the former maintenance contractor.
She said CUB's new contractor, Programmed, advertised the jobs with "market-competitive and above-price" pay rates, but used temporary labor hire staff until the positions are filled.
"Programs are using temporary labor until full-time positions are filled…these people have been bussed in to ensure they can reach the site safely," the agency said. spokesperson.
"Some people in temporary labor positions were approached by strangers in the parking lot on the first day."
Electrical Trades Union Secretary of State Troy Gray said the laid-off CUB staff, who had experience in the brewery's very complicated and unique machinery, were among the most skilled craftsmen in Melbourne.
"These 50 workers…worked seven days a week, day and night, so the average punter can have a nice cold beer after a hard day's work, that's how it should be," he said. .
"Four weeks ago, [CUB] comes out and says you're all fired on the spot – with all the arrogance of the big town – and says here's your cab fare, go see your new boss, that's a 65% pay cut".
Mr Gray said the ETU would collect a $20 levy from its 20,000 members in Victoria to 'support locked out CUB workers'.
"It will be a war of attrition," he said. "Those who can endure will win this conflict, and we will win it."
The industrial row at Carlton and United is the first to boil over since the federal election, with unions calling the situation a 'sign of what is to come' under the second-term coalition government which appears determined to continue its 'union-busting' agenda. " .
Prime Minister Malcolm Turnbull has yet to reveal his industrial relations policy, including whether to adopt the Productivity Commission's controversial proposals to make it easier for companies to fire workers and force them to submit a new demand with lower wages and conditions.
"It is reprehensible how the CUB is treating these workers, and we call on the government to be candid and tell the electorate if this is how they think the workers should be treated," said the secretary of the Australian Council of Trade Unions, Dave Oliver.
"At no time has the government set aside these recommendations."
Mr Oliver said big business was routinely encouraged by Tory governments to "tackle" the pay and conditions of their workers. He drew parallels between the CUB dispute and the infamous 1998 waterfront crisis, when Patrick Stevedores fired 1,400 workers and replaced them with non-union workers.
"Under John Howard, workers were laid off overnight as busloads of alternative workers came in and took their jobs," he said.
"There are a lot of similarities to what's going on here."