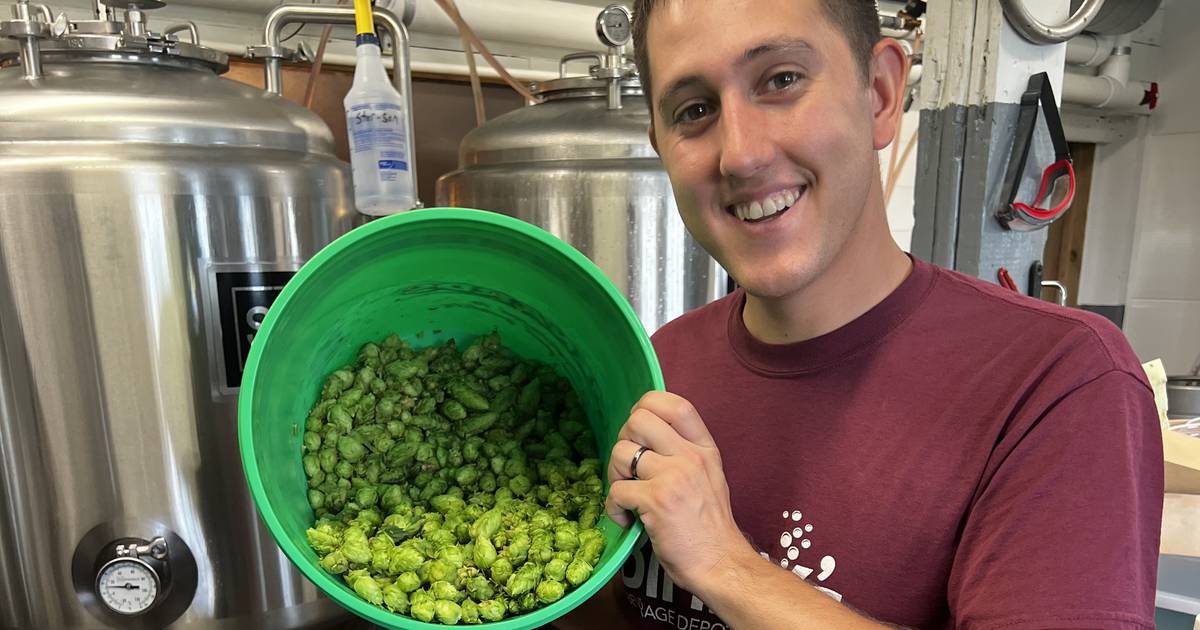 Harvested hops go directly into the brewing process – AgriNews
FAIRBURY, Ill. — The hops grown on the grounds of Emancipation Brewing Co. were harvested a few weeks ago and directed to cans or kegs.
"We harvested enough to brew a few things that we always love to brew, but there were no extra hops this year," said Lincoln Slagel, co-owner and head brewer of Emancipation Brewing Co.
"We harvested and brewed the same day and this beer will hopefully be released next weekend. It's still one of my favorites.
"It's always been said with grapes and things like that, that go into products like this, that if the plants are stressed, sometimes it can create a better flavor. These had a really good smell to them so I'm excited to see how the beer turns out. The day we picked them, when they were perfect and ready to go, just walking with the light breeze, you could smell the hops.
Agronomic plan
Slagel now prepares the perennials for the next growing season.
Rather than cutting the top and bottom of the plants when harvesting, Slagel will wait and cut the hop plants before the first frost.
"They had a pretty harsh winter and spring last year, so our hope is that we can give the leaves as much sun as possible this fall, that maybe the plants will get a little stronger," he said. -he declares.
Emancipation Brewing is currently planning its Oktoberfest events.
"We always make our take on German beers using locally grown malt and hops. This year we have seven German beers. All have locally sourced grains and some, if not all, locally sourced hops," Slagle noted.
Barley production
As is the case with end users of corn and soybeans, the success and profitability of the brewing industry depends on the supply, demand and subsequent prices of raw materials.
When AgriNews caught up with Slagel on August 15, he had just received some of the latest data on US barley production and input cost trends for the brewing industry.
The American Malting Association reported U.S. barley yield this year averaged 66.3 bushels per acre, down from 60.4 last year, but still down from 2020 and compared to previous years.
Production has increased from about 165 million bushels in 2020 to 117.67 million bushels in 2021 and nearly 158 million bushels this year.
"There was a big rebound from last year, but the previous year is what we use until at least a year later. Many of these malting companies keep massive stocks and take them out as and as needed.Also, worldwide there has been a surplus of barley and there are still stocks until last year with this smaller crop, the worse the situation between Russia and Ukraine, plus a drought in the south-central region of Canada where most of its barley is grown," Slagel said.
"Our barley growing areas experienced drought conditions last year, which is why our production was so poor.
"Ukraine is possibly the fourth largest barley producer in the world and from what I understand most Ukrainian farmers didn't even sow a crop this year because they just couldn't not go to the field.
Input Cost Trends
Slagel also noted new data from Brewers Association chief economist Bart Watson on rising brewing input costs for paperboard, aluminum cans, general freight and trucking, malt and carbon dioxide. carbon.
"Everything started to skyrocket from September 1, 2021, but the main one – malt – has practically doubled in price over the past year, as has carbon dioxide. There have been CO2 shortages. In some cases the price of CO2 has doubled, tripled, quadrupled," he said.
"Our keg washer was broken and before getting it fixed this week we had taken our kegs to a brewery in the suburbs to wash them. Last week they told us they couldn't get enough CO2.
"When you finish washing the kegs, they are purged with CO2 to remove the oxygen. They said they didn't have enough CO2 to let us wash our kegs there and only had enough to focus on their own kegs, even if we paid them a fee.
"All of these numbers really indicate that beer prices are unfortunately rising. Aluminum cans have also almost doubled in price since last year.
Slagel said there is some light at the end of the tunnel with slight decreases in trucking costs.
"There are also other costs that have increased. We make a raspberry beer and when we opened a 44 pound can of raspberries it was $89. It was $250 the last time I bought it, but other things are unaffected. We make a pineapple beer and pineapple is less than half the price of raspberries," he said.
"The good thing is that the malting company we use in Indiana hasn't raised prices at all and partly because the weather there has been good, the yields have been good and the numbers on their beans have been good when they send them to the lab.