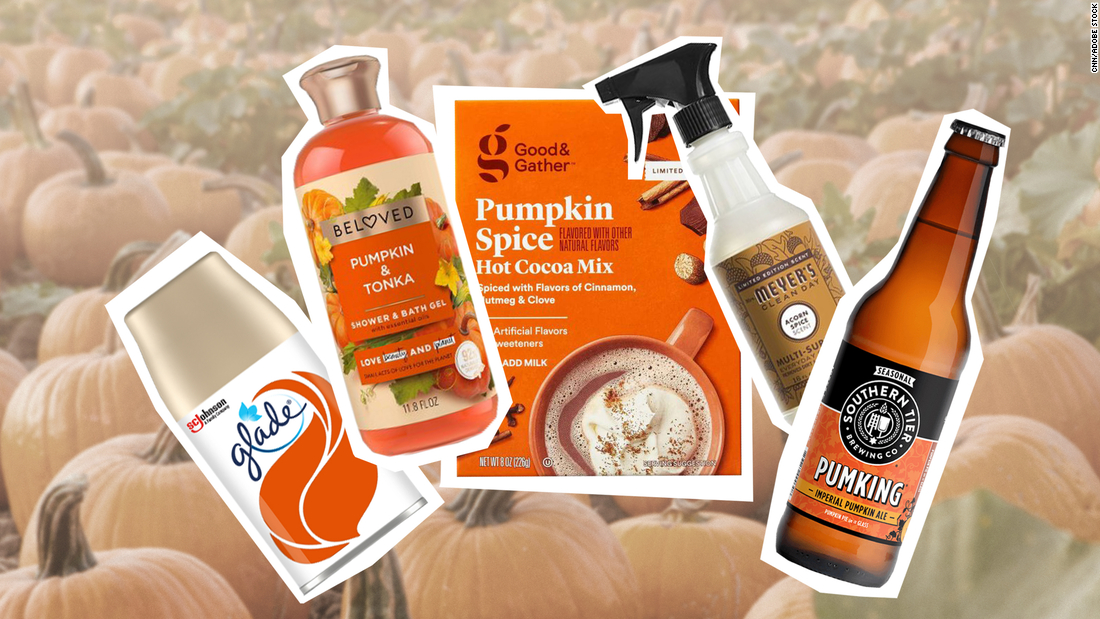 Pumpkin spice products are a must. We've tested a few so you don't have to.
For a few weeks each year, the pumpkin spice has almost complete and utter dominance over hungry consumers across the United States. It surreptitiously seeps into store shelves and then pantries, appearing as soon as the first tree has dropped its leaves and the humid heat of summer releases its sweaty grip.
And every year the selection of spicy pumpkin products expands to new corners of the market. But are any of these pumpkin products good? Are they even remote pumpkins ?!
Look no further: We – CNN's Leah Asmelash and Scottie Andrew, food connoisseurs and the occasional pumpkin spice enthusiast – have tried a random assortment of these products so you don't have to. What we found surprised, disgusted and sated us for better or for worse.
Lea Asmelash: Not spicy enough with the pumpkin !!! Hit me in the face with a drop or don't bother!
Scottie Andrew: Good for stirring my coffee with it. Meh all alone. Maybe if they had been tinted orange I would have liked them more.
The verdict: DO MORE, TRADER JOE'S!
Hot cocoa blend with pumpkin and spices, Good & Gather
THE: I mean, you can't really screw up the hot chocolate.
HER : I opened the bag of cocoa powder and inhaled it for a moment. Then it sort of lodged in my throat and I choked a bit BUT the end product was a perfect mix of pump and shock.
The verdict: A cup of joy adapted to the seasons.
Hostess Pumpkin Frozen Cupcakes
THE: If fall is the taste of orange dye, this is it. But not the worst with coffee.
HER : This cupcake brought me back to elementary school lunches, so dots for nostalgia, but the frosting had the consistency of a melted candle, so the dots were anchored for the wax.
The verdict: Good for nostalgia, bad for eating.
Pumpkin and Frosted Mini Wheat Spices
THE: Looks like they just put some orange frosting on a regular mini wheat. Chalk notes?
HER : Chalky is right. They're a little better when they soften in milk, but otherwise just a slightly sweeter miniature wheat.
The verdict: Alright, if you're desperate.
Pumpkin PopTarts
THE: Wait … I'm not mad at this. I think I like them. It really tastes like pumpkin pie.
HER : I love it when dessert is masquerading as breakfast, and I especially love when that dessert is as pumpkin as this PopTart.
The verdict: PopTart gang forever.
Pumpking Imperial Ale, Southern Tier Brewery
THE: It's spicy and pumpkin and hot and whatever I want in the fall, but in beer form. It's like drinking a season.
HER : It tasted like someone who squeezed a pumpkin, fermented it, and bottled it. I paired it with butternut squash mac and cheese and felt like an epicurean.
The verdict: If you like beer, drink it.
Beloved Pumpkin Tonka Bath Gel
THE: I feel like washing my hands in carved pumpkins and golden leaves. I'm in.
HER : What a beautiful balance this gel has found between dessert and hygiene. It made the Halloween aisle smell of JOANN fabric in my bathroom.
The verdict: Luxuriously autumnal without overwhelming the senses.
Mrs. Meyer's Clean Day Acorn Spice Multi-Surface Spray
THE: This is what I imagine being suffocated by cloves.
HER : I admit I bought this thinking it said "pumpkin spice", but I clearly can't read. Using it to clean, I felt like I spilled some fall themed scent oil and spread it out.
The verdict: Sticky fucking.
Glade Pumpkin Spice Things Up Automatic Spray
THE: It's like infusing my whole house with fall joy. Cover my whole body in this.
HER : The smell was nice, but a little goes a long way – trust the woman who can't wash the scent of pumpkin spice from her hair.
The verdict: Less is more. Use with caution.
And with that, we humble pumpkin connoisseurs end this tasting journey. Go ahead and enjoy, fall loving friends. But first, here are a few products that we haven't tested this year but very recommend:
To Califia Pumpkin Spice Latte Cold Brew, Trader Joe's Pumpkin Joe Joe's, Birch Benders Pumpkin Spice Pancake and Waffle Mix, and this Trader Joe's pumpkin-shaped batter – we didn't taste you for this test, but we love you. Thank you for your service to the pumpkin.