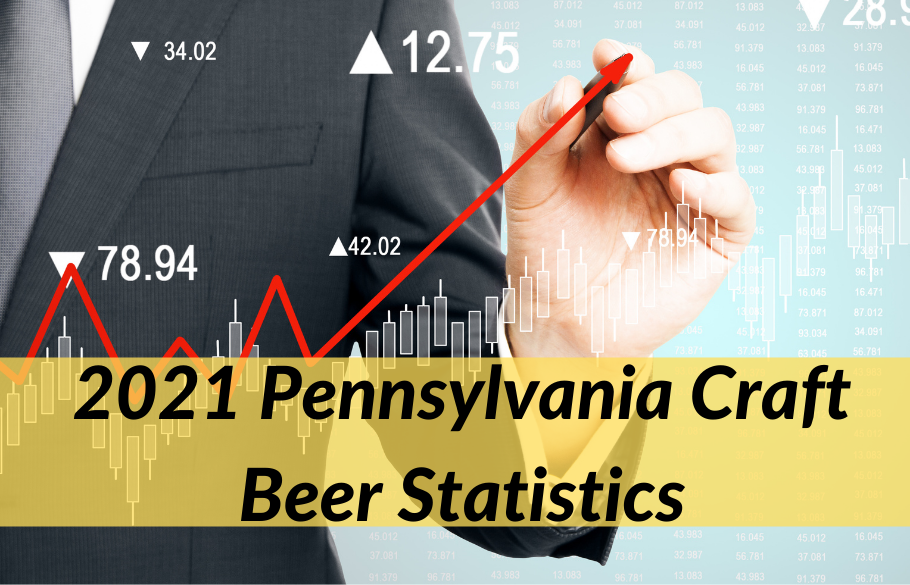 Pennsylvania Increases Overall Beer Production For The First Time In Six Years (PA Craft Beer Stats 2021)
It's that time of year. A look back at Pennsylvania Craft Beer's 2021 stats. As you may know, the Brewers Association publishes publicly available beer production data every year. (You can see all the past details on PA Beer stats here).
As we reported in 2020, unsurprisingly, Pennsylvania saw an overall production drop of almost half a million barrels. This should come as no shock as the state was still affected by the Covid pandemic.
However, as of 2021, the state appears to be bouncing back. As you can see from the list below, this is the first time that global beer production has seen an annual increase in six years:
2016: 3,905,620
2017: 3,724,010
2018: 3,719,475
2019: 3,606,444
2020: 3,156,074
2021: 3,244,840
With 3.2 million barrels of beer produced, Pennsylvania continues to rank second in the world nationwide. For another year, Pennsylvania trailed California for the top spot. With 3.4 million barrels produced, California beat out Pennsylvania with around 200,000 more barrels of beer produced in 2021 (which is almost the same split between these two states from the previous year).
In addition to production, Pennsylvania also remained at the top of the country in many other areas. In fact, in most major categories, the state is no lower than 8th place. Pennsylvania moved up a spot from last year to become the nation's No. 2 state in economic impact, ranked No. 4 in gallons per adult 21 and older and No. 8 in impact per capita. The state has earned a spot as the second-largest craft brewery by state. A total of 42 new net breweries have been added from 2020 to 2021.
See all the statistics for 2021 for yourself: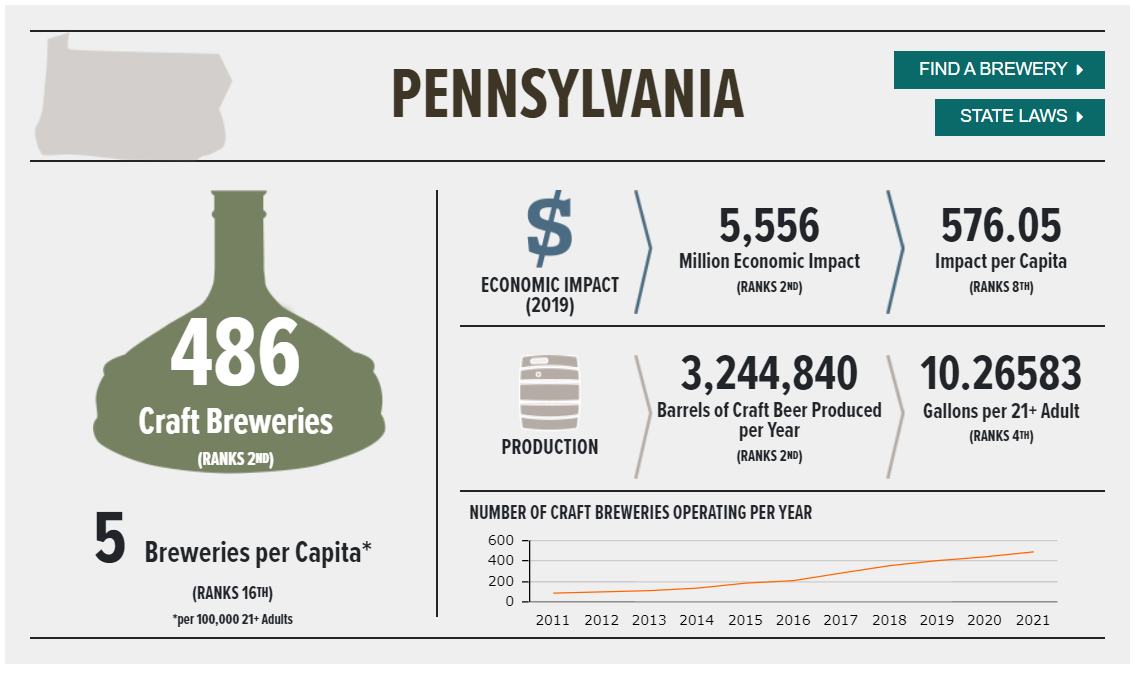 UP AND DOWN TREND
From 2020 to 2021, we've seen trends go both ways.
Upward trend:
Needless to say, Pennsylvania appeared to recover from the pandemic in a positive way. In addition to the increase in barrel production, we have also gone from the state with the third most breweries to the second most breweries in the nation.
Stay flat:
Unlike previous years, Pennsylvania didn't see much of a decline in a variety of areas, rather a lot of data remained flat. The economic impact of $5.5 million remained the same compared to 2020. Additionally, the per capita impact also remained the same.
The one area where Pennsylvania saw a decline was in brewery year-over-year growth, but not by much. As you can see in the chart below, the number of breweries open year-over-year in the state has been trending down over the past five years. 2017 and 2018 being what some might consider "the boom". However, the lack of brewery growth appears to have a more stable trend, having only declined by 5 in total over the past two years combined.