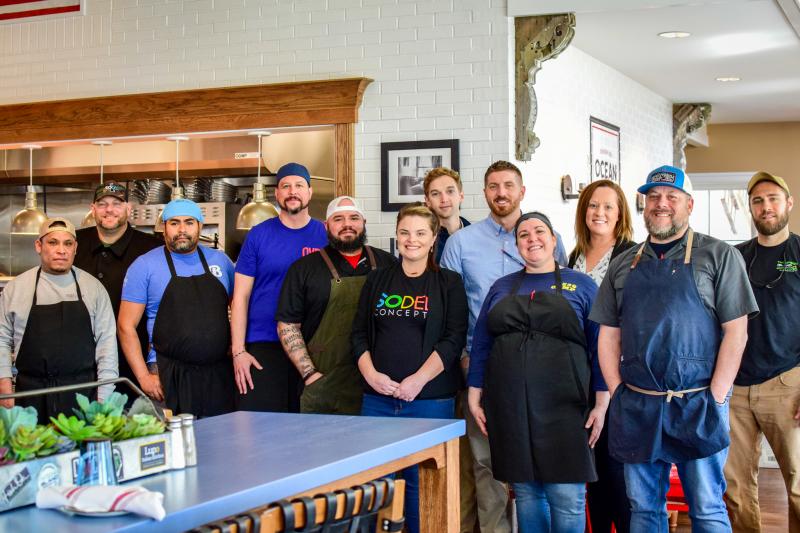 Ocean View Brewing Company's leadership team named
Scott Kammerer, president of SoDel Concepts, announced the names of the opening management team of Ocean View Brewing Company, which is under construction on Route 26 in Ocean View.
Brittany Gross and Christine Wood are the General Managers who oversee all aspects of the dining room. Gross was general manager of Matt's Fish Camp at Fenwick Island, which opened late last year, and Wood was manager of Matt's Fish Camp at Bethany Beach. Mike Mullikin is the assistant manager.
Executive Chef Lou Ortiz was previously Executive Chef of the Thompson Island Brewing Company in Rehoboth, which he helped open.
Teo Hernandez, formerly of Thompson Island, and Nick Brennan and Omar Hernandez are the sous chefs. Brennan has worked at the Clubhouse at Baywood in Millsboro and at Matt's Fish Camp on Fenwick Island. Omar Hernandez is a seasoned employee of SoDel Concepts, having worked for years at Bluecoast Seafood Grill + Raw Bar in Bethany Beach.
On-site brewing operations are overseen by Taylor Smith. Chad McMaster is Director of Operations and Maggie Cellitto is Corporate Head of the new brewery. Both have worked at SoDel Concepts for many years.
"Ocean View Brewing Company benefits from the skills and experience of a seasoned management team," Kammerer said. "These excellent leaders know the culture and mission of SoDel Concepts very well. They want to make a difference in the Ocean View community, which has been so supportive and welcoming.
Ocean View Brewing Company is an independent brewery and 200-seat restaurant with indoor dining and outdoor dining in a beer garden with firepit. Located near NorthEast Seafood Kitchen, another successful SoDel Concepts restaurant, Ocean View Brewing Co. will offer a relaxed yet energetic atmosphere, delicious food and exceptional service. There are also plenty of parking spaces.
The restaurant is scheduled to open in the spring of 2022. For more information on SoDel Concepts and restaurant locations, please visit sodelconcepts.com.