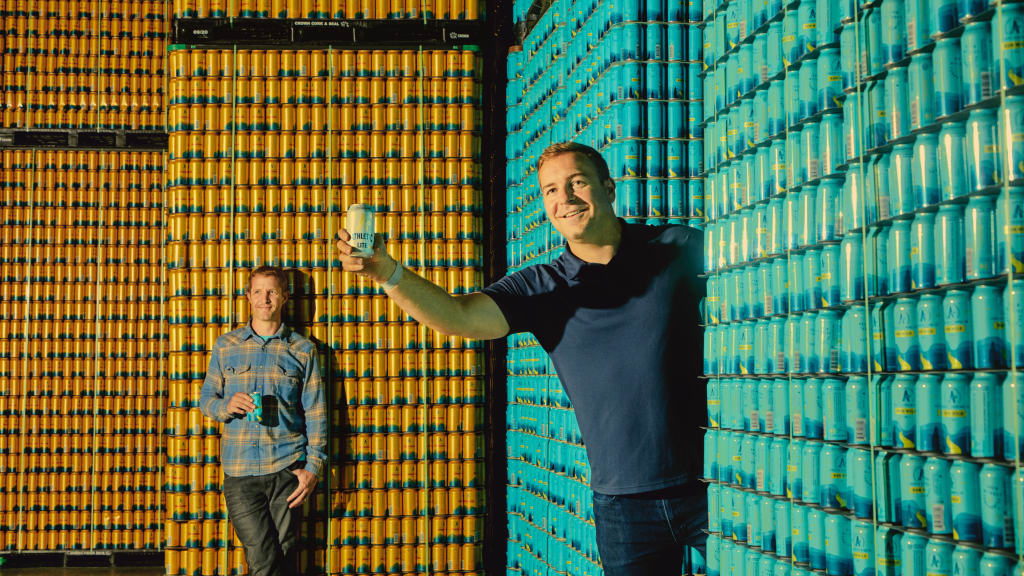 How Athletic Brewing Company made moderation cool. Hint: Tasty beer
Bill Shufelt, 39, launched his craft beer business in 2017 in a moribund segment of an otherwise booming industry: non-alcoholic beers. Shufelt bet there were plenty of non-drinkers like him who wanted lagers and IPAs that tasted better than water, and were worthy of fine dining as well as the finish line. Since then, his Athletic Brewing Company, based in Stratford, Conn., has raised about $75 million from investors. Sales reached nearly $37 million last year, and non-alcoholic beers, while still a small part of the $109 billion global craft beer market, are its category at fastest growing. Before helping build that momentum, however, Shufelt met many people who found his product idea hard to swallow. –As said to Doug Cantor
I love craft beer, but I quit drinking in 2013. I had a job trading at a hedge fund and had dinner at work four or five nights a week. I was focused on performance in everything from work to fitness, and alcohol added nothing to my life. It left me hungover and affected my sleep and nutrition.
One night, after quitting drinking, my wife and I were walking to dinner, and I was ranting about how terrible soft drinks would be and what an unmet need it was. Finally, she said, "That's an amazing idea! Listen to yourself. It took her pointing it out for me to realize I even had an idea.
I never intended to be an entrepreneur, but I realized what a huge opportunity I had. Not only a business opportunity, but also an opportunity to positively impact the lives of tens of millions of people by giving them the option of a good beer that was better for you and could be part of your daily routine. There are nearly 15 million documented cases of alcohol use disorder among adults in the United States. I saw it as a chance to make moderation cool.
I did two years of business planning before quitting my job. Many of my colleagues were stunned when I quit. And people in the brewing industry have very kindly advised me not to invest too much money or time in the idea. Non-alcoholic beer had very low sales. But I did surveys and met with retailers, so I knew people wanted this.
I went to conferences and posted on message boards to find a talented co-founder on the brewing side. Of the hundreds of people I spoke to, only John Walker, a head brewer in Santa Fe, said, "I get it." We started brewing at home in Gatorade pitchers, changing one thing at a time and testing every variable. Just two guys in an empty warehouse and trial and error.
Our original idea was to do contract brewing in larger facilities, but we were rejected by just about every brewer in the country. They ended up doing us a huge favor. Because we had to turn to building a brewery, we can now control every element of our quality ourselves.
At first, there was a huge pushback from potential investors – the construction price was around $3 million, and the risk was enormous. No other brewing facility in the country was dedicated to non-alcoholic beer. In the end, we were able to assemble a team of angel investors. It was truly a leap of faith "If you build it, they will come". Once the beer started to taste good, we started building.
We opened in May 2018 and there was no easy sell at first. I was going all over New England and doing blind taste tests and showing up at events. That first summer, I participated in about 65 sporting events – waking up at 3 a.m., driving somewhere, handing out beer at the finish lines, and talking to customers. I also ran in more than half of the races. There's a level of authenticity if you're sweaty and muddy and sharing a beer with people who just finished the same run.
Through persistent networking, I landed a meeting with regional Whole Foods buyers. This was the turning point. I walked in with unlabeled brown bottles that John and I had filled in his parents' garage. But they saw beyond the packaging and offered us a trial in seven stores. From day one, they couldn't keep it on the shelves and they rolled it out all over New England. Now we are present in most major retailers, in every state, as well as in Canada, Australia and Europe.
Over time, we began to receive orders from retailers and distributors that were much larger than expected. We were growing 30, 40, 50 percent every month, so we bought a bunch of used tanks and doubled our capacity. Then I started flying around the country looking for a second brewery to buy. It's funny – a few years ago there was no semblance of a market. There was just this dusty old corner of the grocery store that hadn't changed in 30 years. But the request was obvious. Often things hide in plain sight.
EXPLORE MORE Inc. 5000 COMPANIES
Excerpt from the September 2022 issue of Inc. Magazine