Durango Artisan Foods helps hobbyists get their products to store shelves – the Durango Herald
Condiment business growing so fast it's already too big for new facilities
Mark Grubis, co-owner of Durango Artisan Foods, examines the company's new labeler on Wednesday at the company's expanded site in Bodo Park. (Jerry McBride / Durango Herald)
Durango Artisan Foods has moved into a new facility where it produces over 100 of its own products, plus dozens more for local entrepreneurs.
The food manufacturing company manufactures mustards, sauces, salsa, coffees and teas, among other things. Durango Artisan Foods provides a space for local residents to see their favorite homemade blends move from their kitchens to store shelves.
"No matter how many local products you see in town, if they're in a jar, we probably make them," said Mark Grubis, co-owner of Durango Artisan Foods.
So many restaurants and local hobbyists reached out to Durango Artisan Foods to produce various condiments that the company had already passed their new facility in Bodo Park before they finished unpacking.
"We have passed our facilities on North Main Avenue and got this new location, but we are already trying to plan our next step," said Grubis. "Once we get everything organized here in the new facility, it will already be too small. "
Grubis said Durango Artisan Foods started with him trying to recreate the flavor of hot sauces he really enjoyed on his travels in Central America.
"After a while we thought maybe we should try selling the sauces," he said.
The business was formed in 2018, and Grubis quickly took on Ska Brewing Co. as a customer after suggesting the brewery use their True Blonde Ale for a mustard, while working with Ska Fabricating.
Grubis left a career in aerospace engineering to start Durango Artisan Foods.
Ella Potts, production manager at Durango Artisan Foods, mixes the ingredients for a new batch of salsa. (Jerry McBride / Durango Herald)
After years of manufacturing missile defense systems for Raytheon Technologies, Grubis said he wanted a change.
"I decided I wanted to do something else and contracted, and that's when I started working under contract with Ska Fabricating," he said, adding that it was more difficult to run Durango Artisan Foods than to be an engineer.
"It's harder and more work. It's less financially rewarding right now. At the same time, the personal reward is much greater, "he said.
As Grubis' hot sauces and Ska's new mustard grew in popularity, Durango Artisan Foods needed more space. To meet its space needs, the company purchased O'Hara's Jams and Jellies and San Juan Mountain Mustard as well as the factory where these products were made.
"We have recovered all of their equipment, facilities and all of their customers," said Grubis.
The business continued to grow, working with Ska on other sauces and salsas and producing its own products.
"We started to attract people who wanted more products made for them," he said. "So in addition to expanding our product lines, other people have come and asked us to manufacture their products as well. "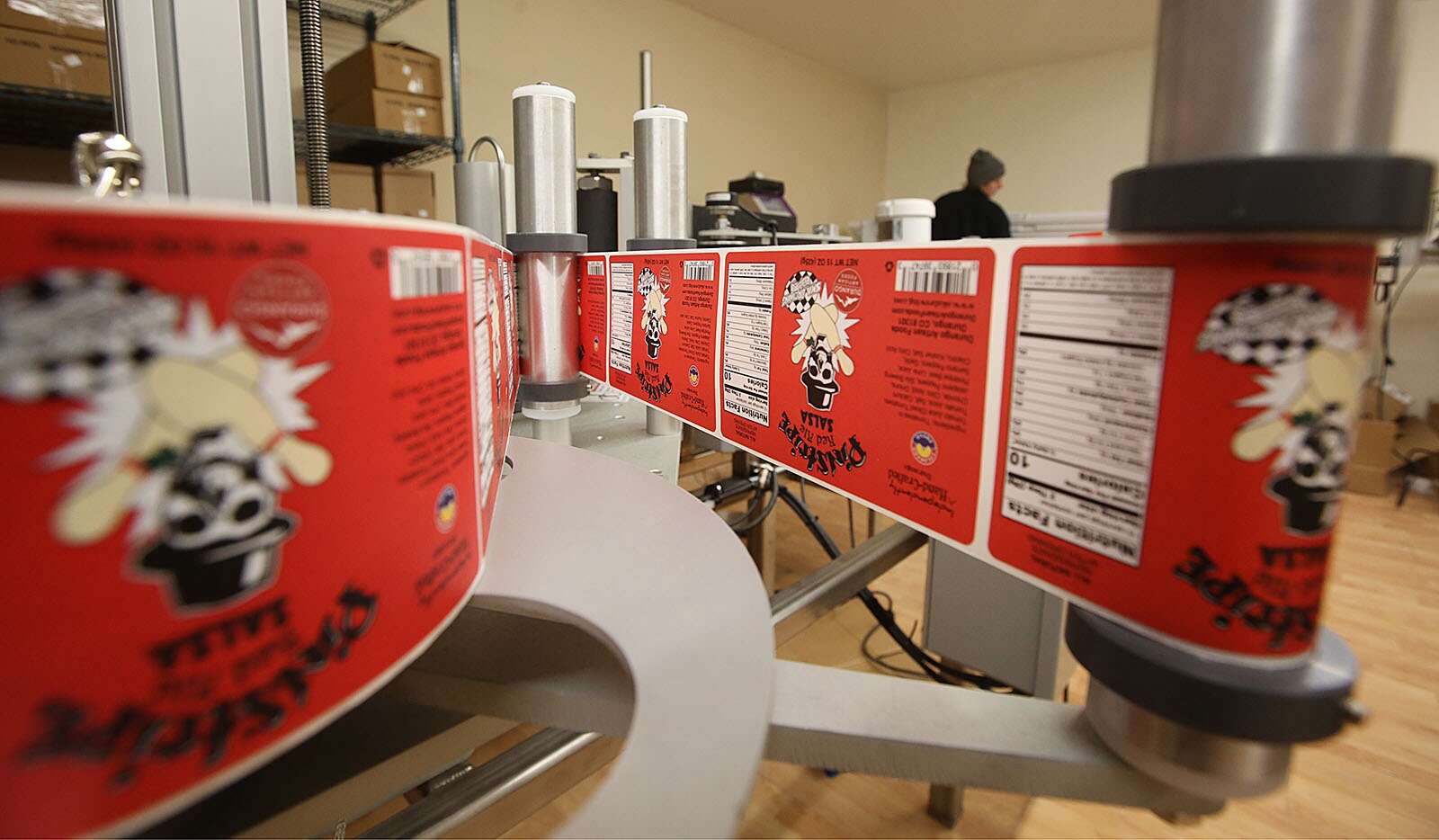 Durango Artisan Foods hopes to launch the coils on its new Ska Fabricating labeler soon. (Jerry McBride / Durango Herald)
Grubis said the two-person operation launched by Durango Artisan Foods is now a 16-person company.
Durango Artisan Foods asks people and restaurants to come to him about making a new product seemingly every month, Grubis said.
"We haven't had to turn anyone away yet. I don't want to reach that point, and the goal is not to reach that point, "he said.
Grubis said Durango Artisan Foods is growing at a rate of about 100% year over year when it comes to making products for other people.
On Wednesday, production manager Ella Potts at Durango Artisan Foods opens cans of tomatoes for a batch of salsa. (Jerry McBride / Durango Herald)
Grubis said one of the things he values ​​most about Durango Artisan Foods is helping people bring the products they make that they love to market.
"It's fun to watch people learn," said Grubis. "Usually when people come to us, they have an idea, but they don't know where to start, and it's fun to watch them go from idea to shelf. "