Centralia's Dick's Brewing Company Featured on Food Network Dinners, Drive-ins and Dives
VSEntralia's Dick's Brewing Company was featured on Food Network's Diner's Drive-in and Dives. Presented by the show as "a real meat market stacking serious sandwiches," the occasion was marked on September 17 with surveillance evenings at both the deli and the brasserie.
While this may be the world's first look at Dick's Brewing Company and Northwest Sausage & Deli, it has been a local favorite since 1983, when Dick Young first established the company. Dick's vision was to create a place where anyone could enjoy old-fashioned smoked sausage. NW Sausage & Deli was a family business from the start, and everyone, including the children, was involved in building the business.
"Dick was always a busy kid and could never sit still," says his mother, June Young. Also in this way, as an adult, he developed an interest in brewing. "He told people he was thirsty and needed a beer," says his daughter and current owner, Julie. "This is how the brewery was created.
In 1984 Dick built a brewery which is still in use today. Dick's Brewing Company became a reality in 1994 when it realized it was way over the annual production limit for home brewers. Sadly, in 2009, the legend passed away, but his dream lives on. Julie and her husband Dave Pendleton continue to make everyone proud by upholding the legacy that Dick created. The tasting room has won the "Best Place for a Pint" award four years in a row.
Guy Fieri's "Triple D's" visit to the small town of Centralia to showcase Dick's subtle brand of excellence is an honor that has been shared with those who know and love the local favorite restaurant. The nights before were filled with people happy to celebrate the debut on national television.
"'Triple D' is about three things," Fieri said in a Food Network Magazine article. "Food, history and character. We spotlight places like this, which are run by people who love the same kind of food that I love. "
"I enjoyed seeing how the show worked behind the scenes," says Julie. "We've always watched the show, so being on it was a really cool experience."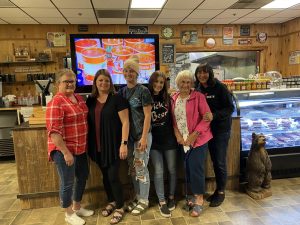 One of the dishes Guy presented is Grandma June's favorite sandwich – Hot pastrami made with homemade hot pastrami, Swiss and provolone cheeses, mustard, mayonnaise and sauerkraut. "It's so delicious," she said with a wink. Another fan favorite is the Reuben, with rye bread topped with Dick's own corned beef, Swiss cheese, Thousand Island dressing and sauerkraut – also a number one choice for Marilyn Gallagher, Julie's mother.
Behind every small business is family and community, a recurring theme at Dick's Brewing Company. Four generations have worked at Dick's NW Sausage & Deli.
"One of the most amazing things about Julie and Dave is their love for the community," says employee Leighanne Eiland. "There is never any hesitation when asked to support or organize a fundraiser. Whether it's a local school or the police department, they are always happy to help.
The positive work culture is taken up by other employees. "When you work for Julie and David, you are not just an employee; you become a family, "says Travis Johnsey.
"Julie even went to buy my newborn outfits. She never hesitates to step in and help, whether for the employees or the community, "explains Bryan Malanowicz, deli employee.
Christine Chamberlin has been with the company for ten years, and her favorite thing about Dick's Brewing Company is the regulars who come and how close everyone is.
On the night of the "DDD" viewing party, Christine, Travis and Leighanne run the brewery like a tight ship, joking with patrons, cashing customer notes and pulling names for the raffle. Everyone is smiling and having a great time while enjoying their favorite refreshing drink of their choice. "It was a fun night. We are fortunate to have such great friends, family and community support, "said Julie. "We wouldn't be here without them all.
Even if you missed the night before, Dick's Brewing has all kinds of fun events going on. They celebrated International Women's Brewing Day by hosting a breakfast and personal brewing event. They recently hosted a Cornhole Tournament and Sausage Festival with the proceeds going to the Centralia Community Foundation and the funds will be used to purchase coats and shoes for children in the district who need them. The ever popular Trivia Night is the first Saturday of the month.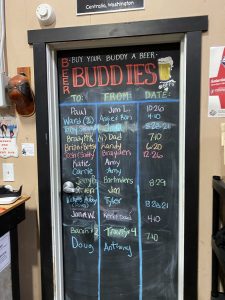 Find ugly Christmas sweater contests and tons of fun events all year round at Dick's. They even have a cool door to the brewery covered in the names of people who have bought a beer or would like to buy a beer for someone who isn't at the bar when they are. Check out their Facebook page for upcoming events.
Dick Young in the small town of Centralia had a dream – a dream that put food on people's plates, a smile on his face and a beer in his hand. He dared to pursue this vision, and now his family is pursuing his plan and sharing it with the world with the "Diners, Drive-in and Dives" of Food Network.
Dick's Brewery
3516 Galvin Road, Centralia
360.736.1603
Northwest sausage and cold cuts
5945 Prather Road SW, Centralia
360.736.7760
Sponsored