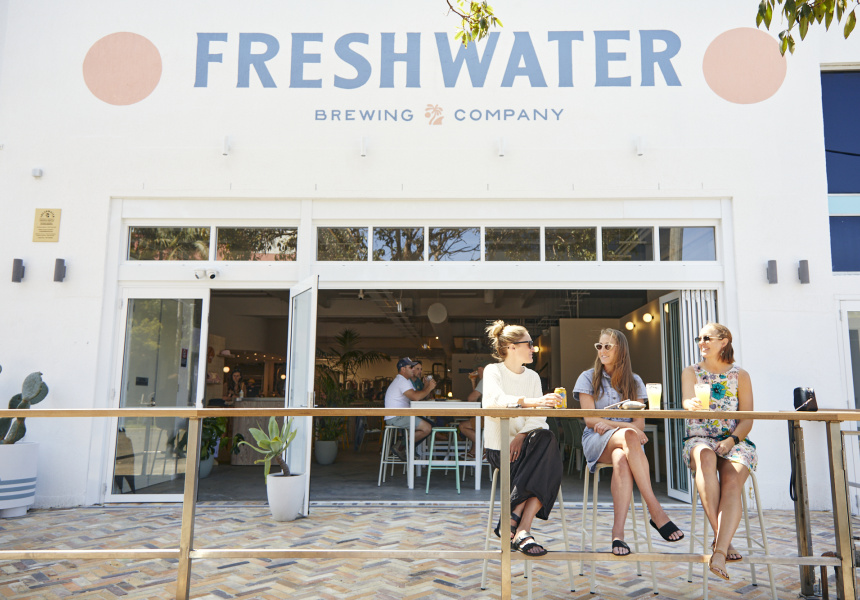 "Casual Backyard Meets Beachside Happiness" at Freshwater Brewing Company's New Brookvale Warehouse
Freshwater Brewing Company has opened a tavern and restaurant in a warehouse in the industrial sector of Brookvale, joining a host of other breweries in the area, including bucket, 4 pins and Nomad Brewing Co.. The space is splashed with pastels and inside you'll find easy-drinking drops and dishes perfect for a crisp beer.
"We wanted to have a home where we could welcome our community," says Jonny Bucknall, who co-owns the brewery with Brett Phillips (who is also head brewer), Tom Bruce, Chloe Morgan-Webster and Marv Slocombe. Large format. "Being the sixth brewery in the region, we had to do things a little differently to complement our neighbours."
For this, they opted for a "light, bright, optimistic" and resolutely seaside atmosphere, in collaboration with the Heliconia design studio. Potted palms are dotted throughout, and colorful chairs of varying heights sit around white-wood and pink-tiled tables and a giant pink horseshoe-shaped bar. DJs add to the good atmosphere on weekend afternoons.
On tap, Freshwater Brewing Company's range of six beers, which they began brewing in 2021. "Our beers match the [Northern] The beach lifestyle," says Bucknall.
An easy place to start is Freshie Pils, which are German-style and contain European hops. For Corona fans, there's Wedge Cerveza, a Mexican-style corn lager "with a salty citrus zing, brewed for hot days on the beach." Then there is the Secrets Hazy Pale, which is rich in tropical flavors.
If beer isn't your thing, you'll be well served by the spritz on tap, as well as the well-curated wine list. It offers interesting pet-nats and natural wines, including Ari's big chocolatey and fruity Montepulciano-Shiraz.
The food menu is also accessible. Created by Executive Chef Daniel Wilson (Dandy, London), Bucknall describes it as "Australian nostalgia – laid back backyard meets beachside bliss".
After a morning in the waves, you'll be ready for the giant fish-finger sanga: two slices of extra-thick white bread containing crumbled sustainably sourced Australian fish, dill and pickle tartare, tomato and cos lettuce. The Plowman is ideal for tackling a long afternoon of beer (or wine) tasting. It's a plate loaded with locally baked baguette, just-sliced ​​bologna, cheese from Kiama's The Pines farm and honeycomb made with Australian bush honey by Wilson's brother, plus homemade piccalilli and date relish. The sausage rolls and barbecued prawn skewers also lean on the Aussie nostalgia factor.