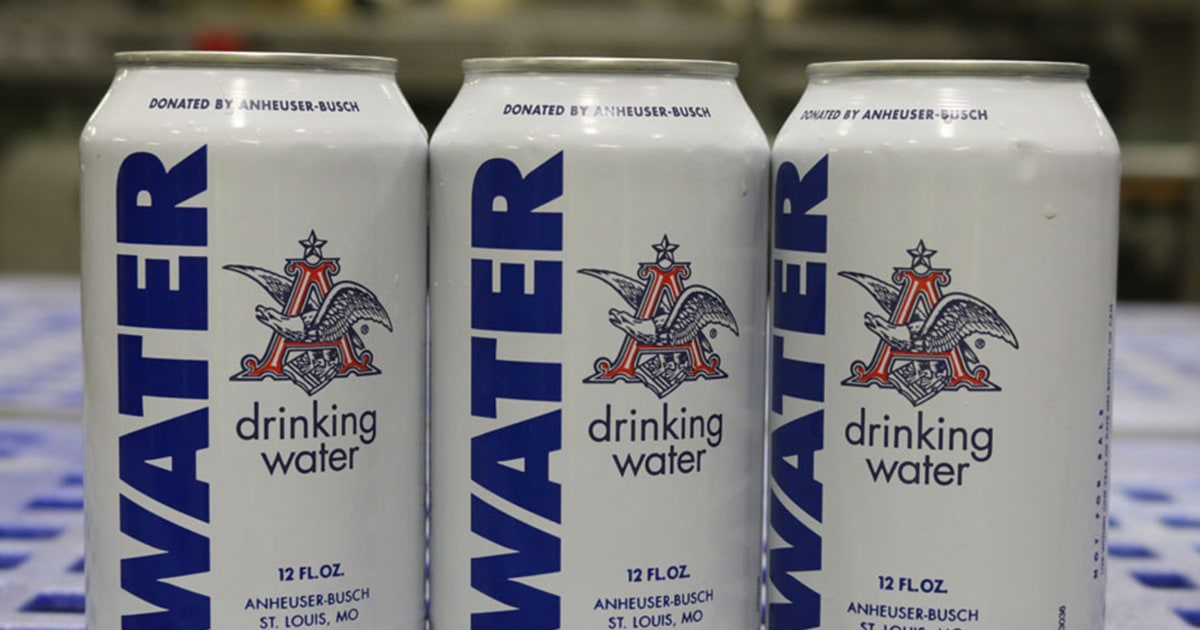 Anheuser-Busch shuts down beer production to provide water for storm victims in Texas and Oklahoma
Beer giant Anheuser-Busch halted production at its Georgia brewery this week to produce drinking water for people affected by a deadly series of historic floods and storms in Texas and Oklahoma.
Anheuser-Busch said it halted beer production at its Cartersville, Georgia brewery late Wednesday night to produce 50,000 cans of water for the American Red Cross.
"Right now our production line is using emergency drinking water instead of beer," Cartersville Brewery Manager Rob Haas told NBC News.
Related: 'Heartbreaking': More rain on the way as search for Texas flood victims continues
The Cartersville Brewery produces emergency relief water canisters several times a year, Haas said, in partnership with the American Red Cross to deliver to places in need across the United States.
"It's something we're uniquely positioned to do in a timely manner," he said.
About 2,000 cases, each containing 24 cans, are on their way to communities in Texas and Oklahoma, he added. Water is expected to reach these areas in the next few days.
Red Cross spokesman Jordan Scott said the organization had worked with Anheuser-Busch, one of their disaster relief partners, to iron out the logistics of water shipments and the areas where they were most needed.
"Oklahoma and Texas are in an unprecedented situation," Scott said. "There are a lot of people in need and everyone is coming forward to help."
Scott said the extra drinking water would be "essential" to relief efforts in the area.
Severe storms and flooding in Texas and Oklahoma this week left at least 25 people dead, more than a dozen missing and thousands of homes damaged. Meteorologists said the rainfall was enough to completely reverse a drought that has plagued the region for the past five years.
Anheuser-Busch owns 12 breweries in the United States and is the manufacturer of several major brands including Budweiser, Michelob ULTRA, Beck's, Kirin and O'Doul's.