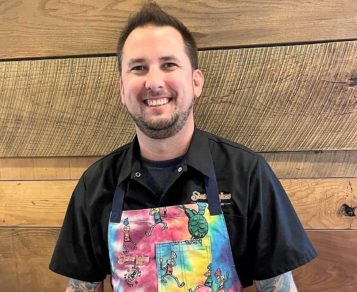 'A foodie destination:' Sister Lakes Brewing Company hires former chef of iconic Chicago restaurants
After making a name for himself at iconic Chicago restaurants, a local chef has returned to his childhood vacation spot to leave a permanent mark on the local culinary scene.
Sister Lakes Brewing Company, located at 92500 County Road 690 in Dowagiac, recently announced the hiring of Executive Chef Justin Paruzkiewicz. Justin brings a wealth of culinary experience to SLBC, including stints as Executive Sous Chef for the award-winning restaurant Gibson's Steakhouse in Chicago, executive chef at Quartino and chef at Hugo's Frog Bar and Fish Market.
According to Sister Lakes co-owner and brewmaster Brian Morin, Paruzkiewicz grew up coming to Sister Lakes with his family and made the decision to move there full-time during the COVID-19 pandemic. Morin said Paruzkiewicz had worked for the brewery for a few months before they named him executive chef in May.
"He's already brought a lot of great things to our home by creating a top-notch dining experience to accompany our great beer," Morin said. "We've always been known for having great food, and Justin will put his own stamp on it and truly make it a foodie destination here in Sister Lakes."
Paruzkiewicz is familiar with the dining experience, but Morin said the atmosphere at SLBC won't change.
"We're a relaxed, laid-back family brewery," Morin said. "But that doesn't mean we can't have fantastic food."
Morin said Paruzkiewicz has been involved in organizing the brewery's town hall, an event space where he can showcase his culinary talents. Recently, the brewery recently hosted a farm-to-table dinner in the space, working with Benton Harbor Micro-Farm Sower's Purse for a six-course meal paired with six beers from the tavern.
"If people want to do rehearsal dinners or other events where they want a fancy meal or a more formal experience, he has the ability, the experience and the knowledge to make that happen in this space," said Morin said. "He's going to build on what we've had and take it to new heights, that's kind of the goal."
Justin joins longtime employee and chef, Ashley Seeley, to lead SLBC's culinary team. Discover the new menu for this summer hereor head to the bar to discover the specialties created by the culinary team.
By Ryan Yuenger
MOTM Contributor